Press Release
Southgate Superblock, Latest Addition in South Jakarta's Business and Commercial District Boasting Exclusive Apartment and AEON Mall
Monday, May 24, 2021 6:55 AM
Jakarta, May 24, 2021 — In the past two decades, South Jakarta has been developing into one of the capital's business districts. Numerous office buildings, especially on Jalan T.B. Simatupang, say it all. Sinar Mas Land has made the most of this particular busy road by developing Southgate Superblock. It is more than just a mixed-use concept development project as it has four sky-high buildings serving as apartments and office spaces.
Baca Juga : Studi Banding Ibu Kota Baru, Mensesneg dan Menteri PUPR Kunjungi BSD City
As a residential area in the middle of a business district, Southgate has three apartment towers. First is the Altuera Tower offering unit types starting from 30 meter squares (Studio Type), 44 meter squares (Studio Loft Type),  44 meter squares and 53 meter squares (1 BR Type), 73 meter squares (2 BR Type), 84 meter squares (2 BR Loft Type), and 98 meter squares (2 BR+ Type). Second is the Elegance Tower, with remaining stock units of 101 meter squares (2 BR + housemaid room Type) and 103 meter squares (2 BR Type). Lastly, the Prime Tower provides 68 meter squares (1 BR + study room Type) and 92 meter squares to 96 meter squares (2 BR Type) units, even more spacious units of 122 meter squares (2 BR + housemaid room Type) and 161 meter squares (3 BR + housemaid room Type), complete with private elevators.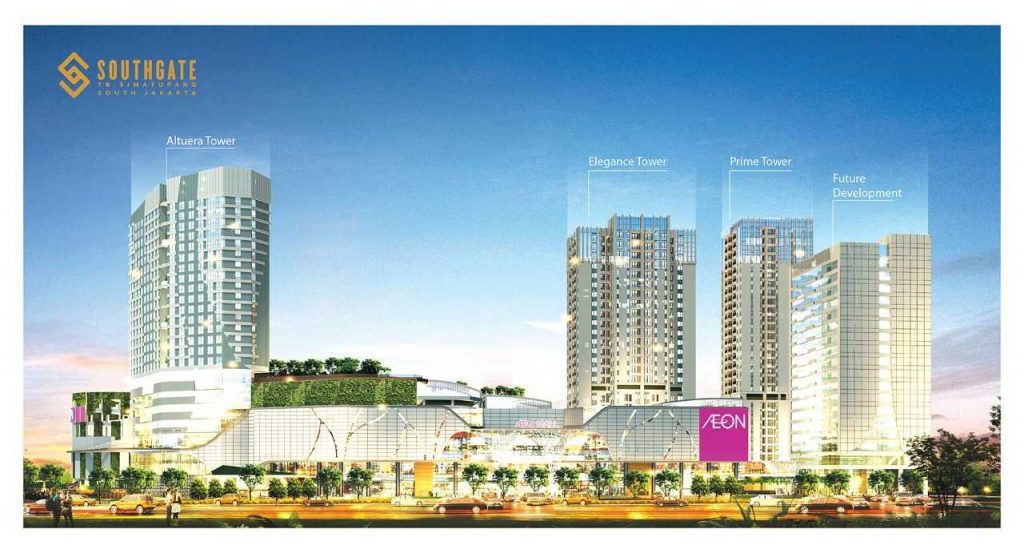 Sinar Mas Land integrated those buildings with the shopping department, to be managed by the Japanese biggest mall operator, AEON Mall. Other than providing supermarkets and department stores, AEON Mall Southgate will feature more lifestyle centers as well as food and beverage facilities too, which visitors can use as meeting spots. The tenants can maintain their healthy lifestyle thanks to the premises' 2.2-hectare green space producing fresh clean air.
Commercial National CEO of Sinar Mas Land Hongky J. Nantung said, "Sinar Mas Land is currently finishing the construction of those three superblock's components. The construction progress so far has reached 95 percent for the Elegance Tower, 60 percent for the Altuera Tower, and 100 percent for AEON Mall. AEON Mall will officially open its doors by the 2021's fourth quarter while the Elegance Tower will welcome tenants by this year's third quarter. We hope Southgate Superblock will help improve the Indonesia's economy during the pandemic as there will be plenty of new job vacancies, business potentials, and opportunities for property investment."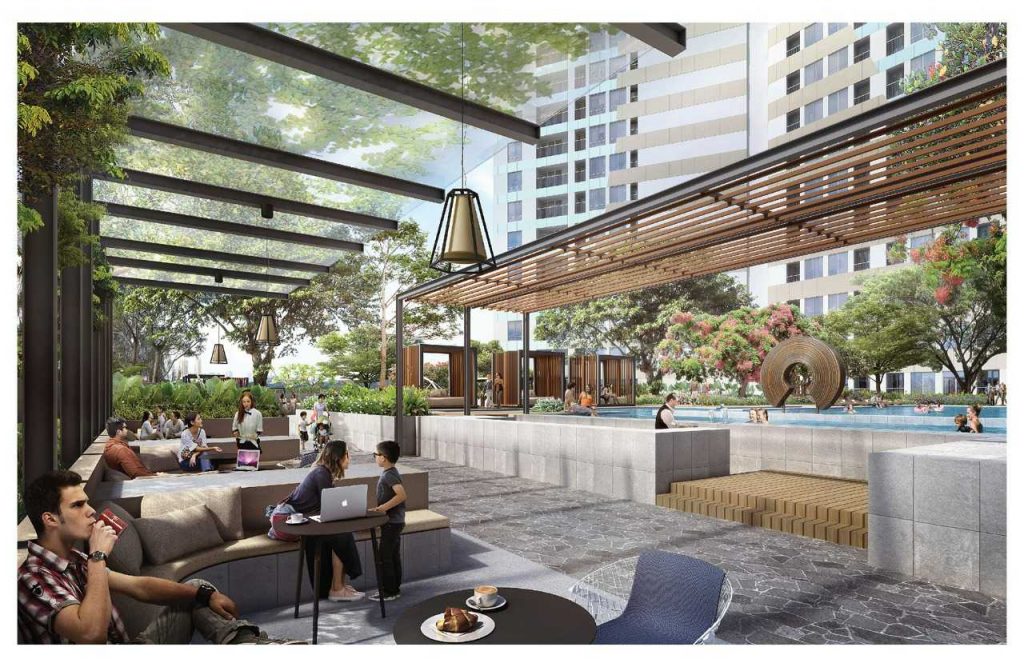 Southgate has strategic access and is close to the T.B. Simatupang and Jalan Raya Pasar Minggu-Tanjung Barat crossroads. It is also supported by the Jakarta Outer Ring Road (JORR) toll access which is located right on Jalan T.B. Simatupang. Southgate's tenants and visitors can reach the toll gate within just three minutes. Public transports, such as the commuter line trains at Tanjung Barat Station right across Southgate, are also available.
Its strategic location, easy access, no traffic lights nearby, and the short distance between Southgate and South Jakarta's office and campus districts bless the superblock with an excellent investment value. Southgate stands on Jalan T.B. Simatupang, a road that has been a home to both national and multinational companies. It offers young executives and expats with a perfect renting opportunity. University students may rent some units at Southgate as well since Southgate is conveniently accessible from the nearby Universitas Indonesia, Universitas Pancasila, Universitas Gunadarma, Universitas Nasional, and Universitas Prasetiya Mulya.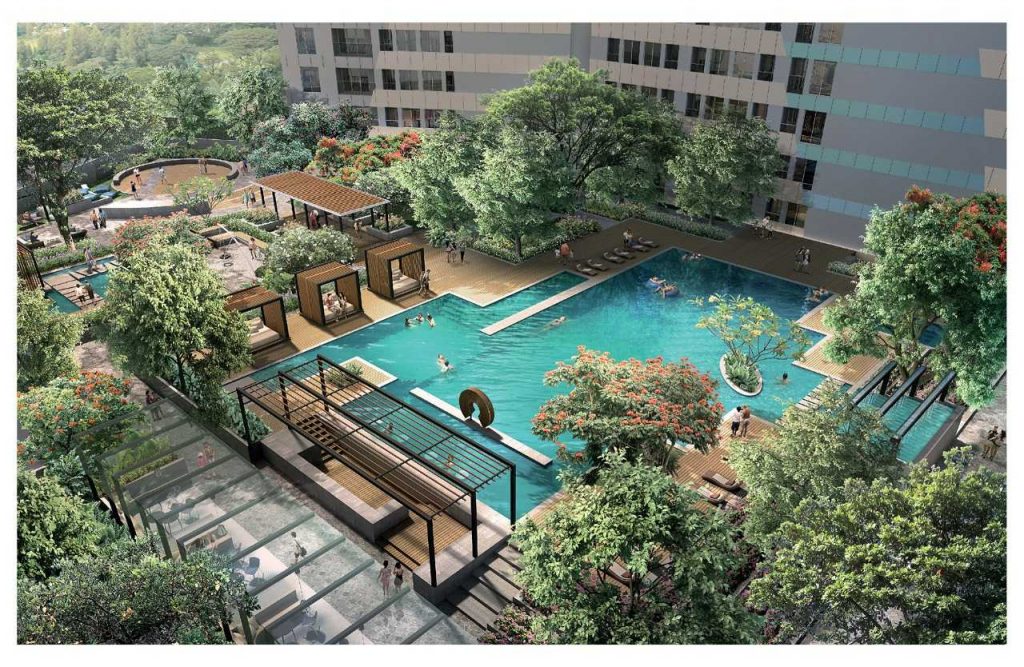 There is more good news for those interested in Southgate as the property is part of the Sinar Mas Land's National Sales Program called Wish for Home (WFH). This program provides reliefs such as cash payment or Home Ownership Loan (KPR) Express payment, Down Payment (DP) relief up to 15 percent, occupancy incentive and special incentive up to ten percent, free Apartment Ownership Loan (KPA) costs and administrative costs*, as well as additional discounts for selected products.
All these facilities from Sinar Mas Land are supported by the government incentive policy with which the government pays the value-added tax (PPN) for residences up to Rp5 billion. In addition, Bank Indonesia is now lowering the benchmark interest rate to make the banking credit more affordable. "The reliefs during the WFH first period which is until June 30, 2021, will be the biggest ones. Later, however, the reliefs will be much smaller compared to the current ones. And so, it is safe to say that now is the best time for the public to purchase the Sinar Mas Land's properties. Not to mention, the PPN incentive policy, which the government is now paying for, will end by August 31, 2021," says Hongky.
Discover more articles like this